Summer in the Pacific Northwest is the best, usually. The sun stays out extra late, replacing grey and rainy skies, and temperatures hover around 80 degrees. However, it's only July and Puyallup has already seen its hottest temperatures ever recorded this summer.
The Rivers at Puyallup, an assisted living community outside of Tacoma, is fortunate to have air conditioning and a passionate team caring for our seniors. Still, the heat can be dangerous for seniors who do not have AC or live alone, and it's essential to know how to handle unforeseen summer temperatures.
What are a few heat-related dangers for seniors?
Extreme heat can be detrimental for anyone, but seniors with underlying conditions are especially at risk. Hyperthermia is a severe concern for older adults during the summer. Not to be confused with hypothermia, the summer version includes:
Heatstroke
The swelling in your lower extremities known as heat edema
A sudden dizziness following exertion known as heat syncope
Heat cramps
Heat exhaustion
What health conditions contribute to heat stroke in seniors?
Age-related

Poor blood circulation
Heart, lung, and kidney diseases
High blood pressure

Medications

Diuretics can cause dehydration
Sedatives and allergy medication can reduce sweating
Antidepressants can increase sweating, also causing dehydration

Lifestyle factors

Alcohol consumption
Being over or underweight
No access to air conditioning or shade
What should seniors do when it gets too hot?
According to Healthy Aging, any temperature over 80°F should give seniors some caution, but tips to keep in mind are:
Stay out of direct sunlight
Wear plenty of sunscreen with an SPF of over 15
Find a local cooling center, mall, library, or movie theater if you do not have access to air conditioning
Drink lots of water and avoid sugary drinks, caffeine, and alcohol, which can cause dehydration
Take lukewarm baths or showers so as not to shock your system
Applying cold cloths to your wrists, ankles, armpits, and neck to help regulate body temperature*
*Talk to your doctor about more ways you can manage your body temperature in summer months.
How are Puyallup assisted living residents staying cool?
The Rivers at Puyallup features three floor plans to fit various lifestyles. Our pet-friendly apartments are spacious and bright, and most importantly: equipped with individually controlled air conditioning. When temperatures are not as hot, residents enjoy spending time in their breezy screened-in porches.
While staying cool inside, residents at The Rivers enjoy three nutritious meals per day prepared by our talented culinary team using local ingredients. You can usually find an ice cream party or happy hour with more cool treats within the activity calendar.
How can seniors stay active when it's hot?
Visiting a large indoor venue like the mall is a great way to keep up on your steps in a climate-controlled environment. Seniors at The Rivers at Puyallup enjoy indoor exercise all year round with:
Chair yoga
Sit & Be Fit exercise classes
Active games like bean bag toss
Indoor walking groups
What are good indoor activities for seniors?
Our community maintains a monthly activity calendar so we can enjoy new kinds of fun every day:
Cookie club
Game club
Bingo
Scenic drives
Trivia
Painting and wine
Shopping trips
Movie night
Why is assisted living important for seniors during extreme weather conditions?
We provide the consistency that may not be available to seniors who live alone or in other situations. Although 2020 and part of 2021 brought an unusual time for senior living communities, the pandemic taught us that our community can remain active, stay fed, and still find time for fun no matter what.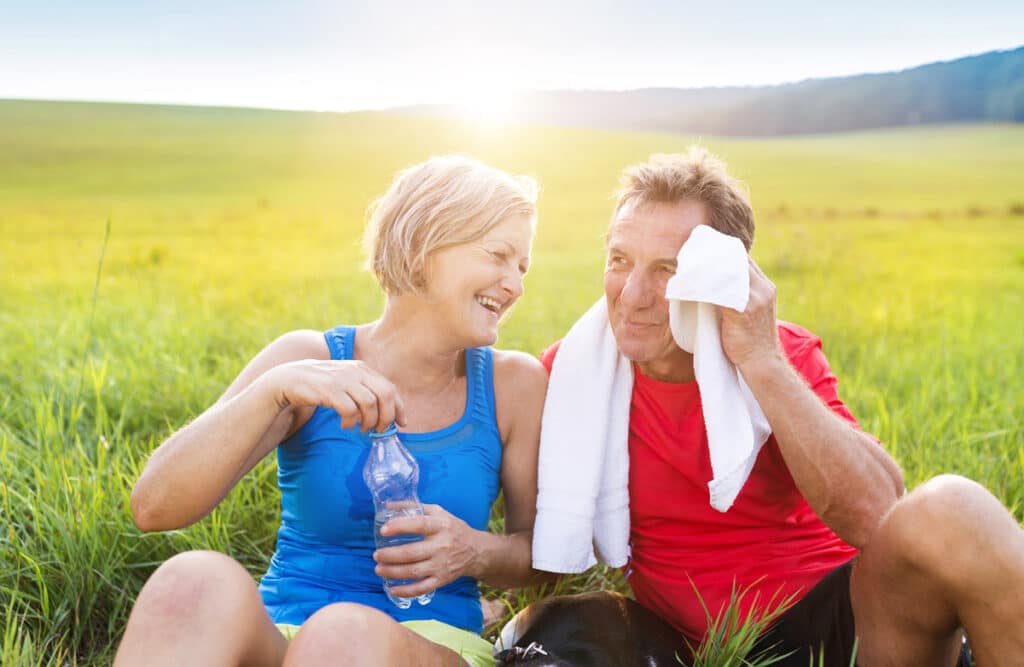 The round-the-clock team of associates at The Rivers at Puyallup is the heart of our community. With a passion for care, they treat residents like family and enable them to pursue what brings them joy. We provide continuous monitoring of your health to ensure you're living your best life.
Care

Dressing services
Bathing services
Assistance with dining needs
Medication management
Behavior tracking and management
Incontinence care
Diabetic care
Respite care
On-site physical, occupational, and speech therapy

Services

Transportation to appointments, shopping, and worship
Housekeeping
Laundry
Maintenance

Amenities

Outdoor courtyard and gardening areas
Library
Spacious family room
Full-service dining room
Beauty/barber shop
Centrally located near shopping and dining
Where can I learn more about keeping seniors cool during the summer?
This summer's heatwave took the Pacific Northwest by surprise. We hope the rest of the summer goes back to normal, and we can go back to sitting in the garden and enjoying the breeze coming in from the Puget Sound. Remember to drink plenty of water and stay as cool as possible.
If you or a senior you know can benefit from The Rivers at Puyallup's services, contact us or find a Pegasus Senior Living community near you.