As grandparents or other family members grow older, their memories can fade. While this is a natural part of aging, it can become more pronounced for those who develop dementia.
Dementia is a term used to describe a group of symptoms that affect memory, thinking, and social abilities. If you or a loved one has been diagnosed with dementia, explaining this to a child can be challenging.
Memory care in Austin is available at Parmer Woods at North Austin. Our community provides a signature service that Dr. Sandra Petersen, Pegasus Senior VP of Health and Wellness, designed. We enjoy hosting family members for events and activities. Seeing grandchildren excites and comforts many of our residents.
If you want to explain dementia or memory care to a child, here are some tips.
How to Explain Dementia to a Child
Keep it simple
Children may have limited attention spans and struggle to understand complex medical terminology. Use simple language to explain what dementia is and how it affects the brain.
Say something like, "Grandma's brain is not working as it used to, and it's making it hard for her to remember things."
It's okay to use the term Alzheimer's or the specific type of dementia their loved one has. Explain the hallmark symptoms and ask if the child has noticed these symptoms if the relationship is close.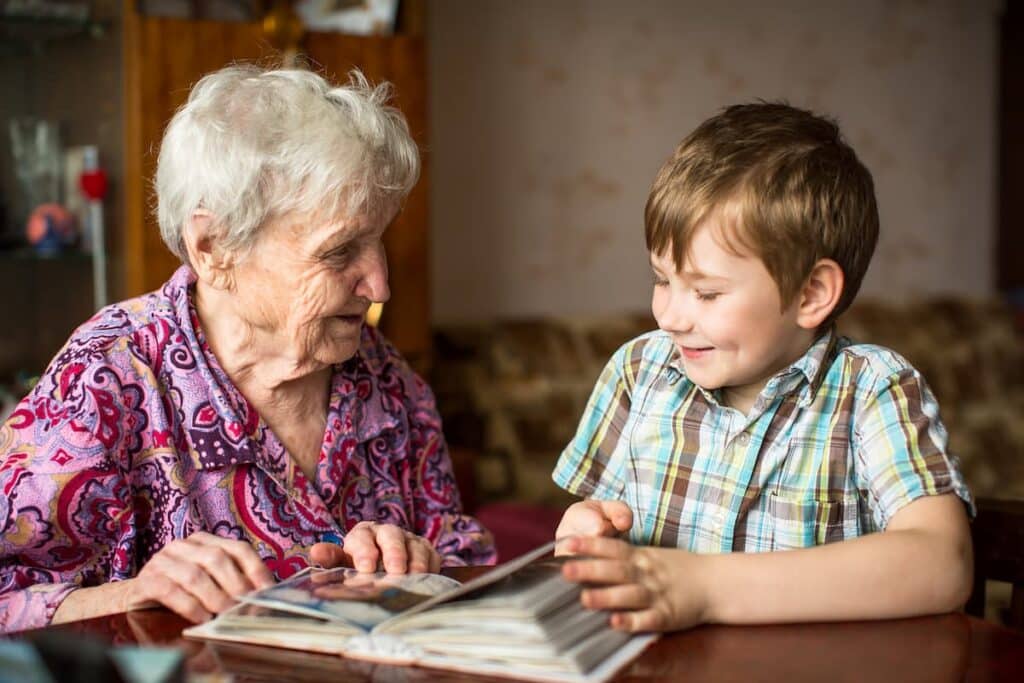 Use analogies
Analogies can help explain complex concepts to children. Use examples like a computer or a library to help them understand how memories are stored and retrieved.
Say something like, "Our brains are like a computer. When we remember something, it's like opening a file. But sometimes, the file is missing or can't be opened because the computer is not working properly."
Validate their feelings
A child may have a range of emotions when they hear about a loved one's diagnosis. Common feelings could include:
Sadness
Fear
Confusion
Jealousy
Guilt
Embarrassment
It's essential to validate their feelings and let them know it's okay to feel that way.
Say something like, "It's normal to feel upset when we hear news like this. We can talk about it together, and I'm here to answer any questions you have."
Sometimes young people may mask jealousy that a family member will be getting more attention. Some may be embarrassed and not want to invite friends over for fear their loved one will scare others away.
Use positive language
Frame the conversation positively, even though dementia is a serious condition. Try using softer phrases, such as:
Alzheimer's disease: Alzheimer's
Memory care facility: memory care community
Memory loss: forgetfulness
Aggressive behavior: mood changes
Toileting or grooming: personal care
Getting lost: wandering
Using positive language can help alleviate some of the negative associations that come with the condition.
Reassure them
Children may worry about their loved one's future or their own risk of developing dementia. Reassure them that they are not at risk and that there are things they can do to keep their brains healthy, such as:
Eating a balanced diet
Getting enough sleep
Staying active
Being social with friends and family
Instilling healthy behaviors for life can start with these conversations. People who are lonely and inactive in adulthood have a 27 percent higher risk of developing dementia. It is also reported that a healthy lifestyle can decrease Alzheimer's risk by 300 percent, even with a family history.
Spending Time with a Grandparent with Dementia
Spending time with grandparents who have Alzheimer's or dementia can be a challenging experience, but it can also be rewarding. Engaging in activities together can create meaningful and positive interactions, improve mood, and enhance communication.
Here are seven activities children can do with their grandparents who have Alzheimer's or dementia:
Look through photo albums: Looking through old family photo albums can spark memories and prompt conversation. Children can ask their grandparents about the people, places, and events in the pictures. This activity can help stimulate memory and encourage social interaction.
Listen to music: Music has a powerful effect on the brain and can evoke emotions and memories. Children can play their grandparent's favorite songs or sing together. Dancing or tapping to the beat can also be a fun way to engage in physical activity. Some research says Alzheimer's does not affect recalling music and lyrics.
Create art: Art therapy has been shown to improve mood and reduce stress in people with dementia. Children can encourage their grandparents to create art by providing them with coloring books, paint, or markers. They can also engage in art activities together, such as drawing or making collages.
Play games: Simple things like bingo, matching games, or card games can be enjoyable for people with dementia. Children can adapt the games to suit their grandparent's abilities and play at a comfortable pace.
Go for a walk: Getting outside and enjoying fresh air can benefit physical and mental health. Older children can take their grandparents for a walk around the neighborhood or in a nearby park. They can also engage in other physical activities, such as gentle yoga or stretching exercises.
Cook or bake together: Cooking or baking can be a fun way to engage the senses and create a shared experience. Children can help their grandparents prepare a favorite family recipe or bake cookies together.
Read together: Reading books together can be a calming activity that can stimulate conversation and encourage social interaction. Children can read a favorite book aloud or look through picture books together.
These are opportunities for shared experiences and positive interactions. Children can adapt the activities to suit their grandparent's abilities and interests and focus on creating a relaxed and comfortable environment. It is beneficial for everyone to engage in meaningful activities together.
Will Grandma or Grandpa get better?
Alzheimer's and most forms of dementia are progressive. While there is currently no cure, data-based treatments can make their lives easier. Memory care communities are places providing these services. Often, these communities love having grandchildren visit.
Explaining a memory care community to a child can be a challenging task. It's important to use age-appropriate language and provide clear explanations that children can understand. Here's how you can explain a memory care community to a child.
Define what a memory care community is
Start by explaining that a memory care community is where people with dementia or Alzheimer's can live in a secure and comfortable environment. The community is designed to provide specialized care and support for people with memory loss.
Residents get to live in an apartment and eat brain-healthy meals. They also have access to art projects, pet therapy, and other fun activities.
Highlight the benefits
Explain to the child that a memory care community has trained staff experienced in caring for people with memory loss. Tell them that the team helps with daily tasks, such as bathing, dressing, and eating, and provides medication management.
Highlight that the community also provides opportunities for social interaction, physical activity, and engagement in meaningful activities.
Address concerns
Children may have concerns about their loved ones moving to a memory care community. Address their fears by explaining that the community is designed to create positive experiences. Staff is available 24/7 to provide a high quality of life. Visiting a grandparent is still an option.
Take Your Child to Visit a Memory Care Community in Austin, Texas
If you are looking for a data-based memory care community in Austin, TX, consider Parmer Woods at North Austin. Our signature Connections program provides personalized care and support for people with memory loss.
Dr. Sandra Petersen designed our signature memory care program. The evidence behind our techniques stems from Dr. Petersen's recovery from a stroke using neuroplasticity therapies. Movement, brain challenges, and socialization encourage brain cell growth to slow memory loss.
Family members with loved ones in our secure memory care program can expect:
Data-based therapies and activities
Individualized care plans
Bathing, dressing, and mobility assistance
Personalized programming
Access to specialized services, such as occupational, speech, and physical therapy
Chef-prepared meals
Housekeeping and home maintenance
Our memory care community offers a secure and comfortable environment with 24-hour care and support from trained team members. We create opportunities for socialization, physical activity, and engagement in meaningful activities daily. Everything our team does focuses on preserving residents' dignity and independence.
A memory care tour is the best way to find high-quality services that meet your loved one's needs. Having an extra set of eyes on the visit from your child can be a great benefit. We don't encourage bringing someone with dementia on an initial tour. However, we think having other family members is a great idea.
Let's Talk to Your Family About Alzheimer's and Dementia Care in Austin, TX
If you're looking for a data-based memory care community in Austin, TX, Parmer Woods at North Austin is a great option. We are here to support the entire family affected by dementia. Contact us to arrange a tour.