The Courtyards at Mountain View in Southeast Denver, Colorado, provides a welcoming environment for seniors who need assistance with activities of daily living.
However, we're more than just assisted living. Our community offers an engaging and social lifestyle for retirees looking for assisted living in Aurora or considering options for Glendale senior living.
Our team understands the importance of socialization in maintaining the health of our senior population, which is why we offer a variety of activities to keep our residents engaged and interacting with one another.
Continue reading to see how our assisted living community is bringing Aurora, Englewood, and Glendale retirees together for enjoyable senior living. Consider how our convenient location can improve the life of an older adult.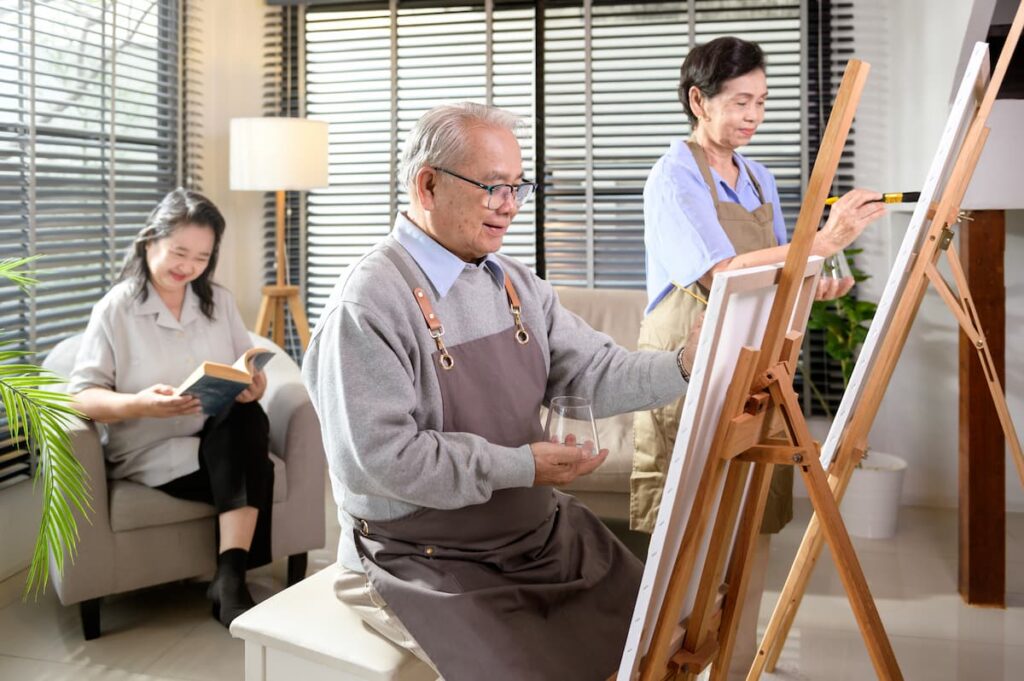 Assisted Living
Assisted living provides seniors with supportive services and care in a residential setting. These services are designed to meet the individual needs of each resident while allowing them to remain as independent as possible. Services may include help with activities of daily living (ADLs) such as:
Dressing
Bathing
Personal hygiene
Transferring
Ambulating
Assistance with medications
Meal preparation and dietary monitoring
Access to health care services
Social activities
Assisted living offers seniors a comfortable way to live while receiving the care they need. The level of care provided varies from facility to facility. At The Courtyards at Mountain View, we provide additional conveniences such as:
24-hour supervision
Individualized care plans
Chef-prepared meals
Transportation
Housekeeping and homemaker services
Laundry services
Medication management
On-site rehabilitation and fitness center
Healthcare coordination
On-site shopping
Utilities included in pet-friendly senior apartments
Who qualifies for assisted living in Colorado?
To qualify for assisted living in Colorado, an individual must be at least 65 years old or disabled. It should be a person who requires assistance with ADLs regularly. The individual must be able to move around independently or have someone available to help them when needed.
Assisted living residents should not require nursing home or hospital-level care to receive adequate care from an assisted living facility.
At The Courtyards at Mountain View, we also provide independent living and memory care for residents who require higher or lower levels of care.
The typical resident of an assisted living community is generally between 75-85. Less than half (45 percent) of assisted living residents in Colorado are over 85. At least 50 percent of residents need help with mobility and bathing.
Residents typically struggle with ADLs due to age-related issues such as arthritis or poor vision/hearing. They may also have difficulty managing their medications or need additional help preparing meals.
Whatever the case, most assisted living residents require regular support to maintain their independence and quality of life.
Community and Socialization Matters for Seniors
It's no secret that social interaction is vital in keeping seniors mentally and physically healthy. Studies have shown that socially active seniors are less likely to experience cognitive decline and depression than peers who lack social engagement.
Additionally, research suggests that staying connected may promote physical activity among seniors, leading to improved overall health.
At The Courtyards at Mountain View, we strive to provide our residents with opportunities for meaningful connections through our daily activities program. Our team members organize events such as game nights and movie screenings so residents can enjoy quality time together while having fun.
Our dedicated team works closely with each resident to create a personalized plan that meets their individual needs while promoting independence through autonomy. We want residents to feel like part of a family here, so we actively engage them in activities that:
Enrich lives
Build relationships
Foster a sense of community
We know how important it is for seniors to stay connected, which is why we make sure there's always something fun happening.
Our Activity Director plans fun outings and events like movie nights, art classes, and day trips to nearby attractions. Residents enjoy regular happy hours, educational programs, and games that inspire laughter and conversation.
Physical well-being is just as important as mental well-being for seniors. Daily opportunities for movement include:
Chair yoga
Tai chi
Balloon volleyball
These classes are excellent for social interaction as well as staying physically fit. In addition to regular group classes led by qualified instructors, we also host occasional group walks around the neighborhood so everyone can chat while getting some fresh air and exercise. Many residents even practice their own exercise routines.
Additional social clubs bring community members together regularly. Everyone can find something to enjoy, from classic games to worship services and karaoke nights.
Socialization and a sense of community are essential when it comes to finding the right senior living community. These qualities keep minds active and create strong relationships among neighbors with similar interests.
At The Courtyards at Mountain View, we prioritize building a family-like community structure through daily activities, fitness classes, and social clubs. We foster connections between residents on an individual level and as part of a larger group.
If you're looking for assisted living in the area of Aurora, Englewood, Glendale, or Southeast Denver, consider making new friends in our community today. Head less than a mile east of Havana on Mississippi to discover the fun waiting at The Courtyards at Mountain View.
Denver Assisted Living That Feels Like Home
Contact us today for more information about life at The Courtyards at Mountain View. We can't wait to invite you into our welcoming community.