Weathering Hurricane Ida at Laketown Village
Hurricane Ida hit the southernmost tip of Louisiana just before noon on Sunday, August 29, 2021. By 12:20 p.m., reports of power outages from the storm began in Kenner, LA. By 3 p.m., Laketown Village, an assisted living and memory care community, lost power as well.
Traveling that distance in a car would take about two hours, but the ferocious Ida made it in only 20 minutes.
Two days prior, Laketown Village prepared for the storm:
 "We are prepared and ready for Tropical Storm Ida, which is expected to reach Louisiana by Sunday. We are initiating our severe weather safety protocols to ensure our residents and on-site team members' protection during this time."
At the time, officials said the storm gained momentum too quickly to evacuate all the residents of the New Orleans area. Our community elected to shelter in place, with plenty of supplies and plans for additional supplies provided by our sister community, The Farrington at Tanglewood in Houston, TX. With two generators and plenty of heroic associates, we hunkered down.
The following morning, Monday, August 30, Laketown Village had only sustained minor cosmetic damages.
However, the city's water and power infrastructure were in ruin for the foreseeable future, and mandatory evacuations were set on Tuesday, August 31. Lucky for us, we have a large family with plenty of southern hospitality.
By the morning of Thursday, September 1, Laketown Village residents enjoyed hot showers, a hearty breakfast and were ready for a day of activities in Texas and Mississippi.
Thank You, Mississippi!
The Pegasus Senior Living communities have lived through so much in the past couple of years. We were proud to be an area of refuge for thousands of independent living, assisted living, and memory care residents throughout the COVID-19 pandemic. In the face of adversity, we come together and become stronger.
Castlewoods Place in Brandon, MS, and Ridgeland Place in Ridgeland, MS, our neighbors about three hours north, graciously welcomed us in with open arms. We can't express our gratitude enough.
Thank You, Castlewoods Place!
If you're looking for assisted living or memory care in the Brandon, MS area, Castlewoods place is your joint. Their residents just completed building bird feeders and tossing bean bags when the Kenner crew arrived.
As soon as Laketown Village stepped off the bus, the fine folks from Kindred Hospice were ready with welcoming gifts for us. We even stayed on top of our wellness thanks to Performance Therapy.
Castlewoods Place, we will never forget these memories:
Mimosa Monday
An extra-large game of noodle ball
Celebrating a 90th birthday, Labor Day and Rosh Hashanah
Thank You, Ridgeland Place!
A hop, skip and a jump from Castlewoods Place, the rest of the Laketown Village residents were assisted off the bus by the good people of The Ridgeland Fire Department.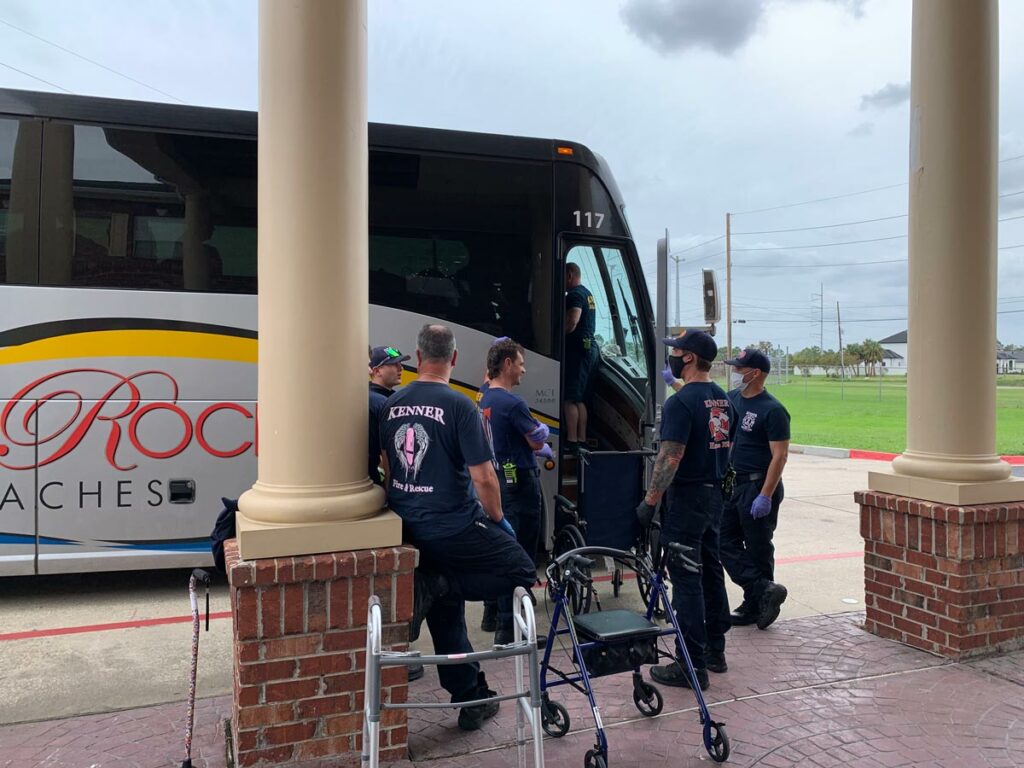 Ridgeland Place, thank you for sharing positive moments with us:
Thank You, Texas!
Our sister community in Houston, The Farrington at Tanglewood, is no stranger to the effects of tropical storms and hurricanes either. It was a wonderful homecoming for some of the Laketown Village residents who have family in the area.
Thank you to all the associates and residents of The Farrington at Tanglewood who provided care and good times. Everything is bigger in Texas, especially the gracious hospitality of their community.
Heroes In Kenner
While the residents and a good number of associates were elsewhere, the rest of our team remained behind, making sure our building would be ready for the return home.
On Sunday, September 5, the power and water services returned to Laketown Village. Associates who stayed fired the kitchen back up and provided meals and resources to folks in the neighborhood.
We have extra gratitude for the first responders of the Kenner Fire Department who helped us during the storm and continued inspecting our community while we were gone. They have assured us we are good to go back to business.
Coming Home
While we regret that Kenner and all areas impacted by Hurricane Ida will face certain challenges for a while, we remain resilient. We met amazing people, made great memories and are now even stronger because of it.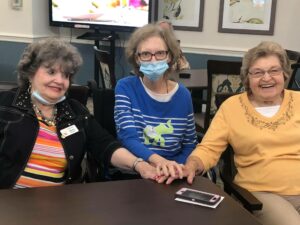 "Each community has welcomed Laketown with open arms, and our residents are meeting new friends and learning life stories from the best of them! Friendships are being made through this difficult time."

– Kjola Williams, Executive Director of Laketown Village
Keep an eye out on our Facebook page for continued updates and an invitation to a welcome back BBQ event!
Care is Back in Kenner
Laketown Village provides assisted living and memory care services in Kenner, LA. Contact us to set up an appointment for a tour or to answer any questions about senior living.