Assisted living in Roswell, GA is an excellent option for seniors looking to maintain their independence. This service creates happier people. Historic Roswell Place is an award-winning senior living community that caters specifically to the needs of Atlanta area seniors.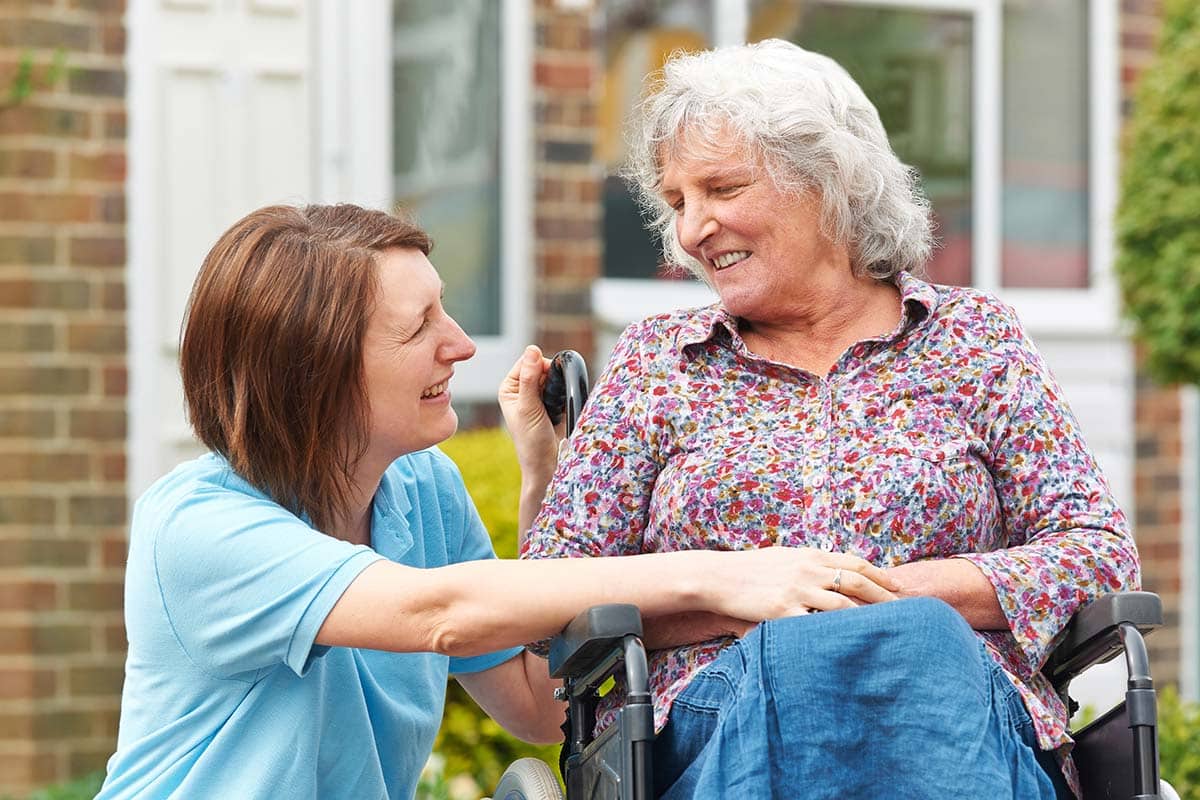 Georgia assisted living residents enjoy a lower cost of care than most states. The average cost of paying for assisted living in the United States is $4,500 per month. The price in the Peach State averages nearly $1,000 less.
Historic Roswell Place can meet a wide variety of needs. Some advantages include on-site physical therapy, chef-prepared dining, and dementia care. Let's explore seven ways this assisted living community and memory care program can help older adults.
1. Medication Management
Medication management is hugely important for seniors as they age. Historic Roswell Place has experienced professionals to ensure residents take the correct medications at the right time.
Meet one of our Medication Aides
This service eases both senior's and adult children's minds as they know they don't have to worry about potentially dangerous mistakes. Residents experience more freedom because they don't have to worry about remembering instructions or asking for help with medication administration.
Individualized service plans will include an outline of the resident's medications. The care team also works to improve the life of residents, so they do not require higher levels of care. That feature maximizes the quality of life and minimizes monthly costs.
Managing medications takes a lot of time. Let the qualified care team in Roswell's assisted living community remove that burden.
2. Bathing & Dressing Services
It can be difficult for some seniors to bathe or dress themselves. This is where the assisted living services at Historic Roswell Place come into play. The confidence in being clean and presentable can improve a senior's outlook on life.
Activities of daily living (ADLs) refer to the everyday tasks necessary for health and well-being. Basic ADLs consist of eating, dressing, and bathing. As a person ages, these activities can become increasingly difficult to do alone.
Assisted living communities help bridge that gap by providing seniors with the right resources and support needed to complete their ADLs. These communities focus on maintaining independence by providing hygiene care and medical assistance when necessary.
Personal care homes and other senior living facilities in Georgia are often not licensed to offer a high level of care. The services at Historic Roswell Place allow elderly adults to live confidently.
3. On-Site Physical Therapy & Exercise Programs
Physical activity is essential for maintaining strength. Exercise programs are a tool for preventing falls or other health issues that could arise from lack of movement.
Historic Roswell Place features on-site physical therapy programs. The team tailors exercises and workouts to residents' needs. Each session is about improving, maintaining, and having fun.
Senior-friendly exercises are available in a group setting every day. Building strength and stamina is an excellent defense against injury and illness.
4. Social & Physical Activities That Improve Moods & Prevent Dementia
Social and physical activities are designed with fun in mind! Maintaining mental agility and social connections has been proven to improve moods and prevent dementia in older adults.
Some of the residents' favorite activities include:
There's no shortage of activities at Historic Roswell Place that will keep everyone engaged and entertained.
5. Chef-Prepared Dining
Proper nutrition plays an essential role in overall health in older age. Gaining or losing weight contributes to why many older adults need assisted living. Cooking three nutritious meals per day is a lot of work for anyone at any age.
Chefs prepare three delicious meals per day. This sustenance is tailored to meet each senior's dietary needs at Historic Roswell Place. Menu options feel like home cooking while also being heart and brain-healthy.
6. Senior Apartments in Roswell, GA
A place to relax and call home is essential in promoting independence. The senior apartments available at Historic Roswell Place are perfect for rejuvenating and receiving personalized health care services.
Assisted living apartments are pet-friendly and feature:
Housekeeping
Walk-in closets
Walk-in shower
Kitchenettes
Plenty of natural light
Modern flooring and fixtures
Floor plans include studios and one-bedroom apartments. A smaller living space cuts down on the hassles of life. Residents don't have to worry about preparing meals, fixing leaky faucets, or changing a light bulb. This is maintenance-free living at its finest.
7. The Connections Program For Memory Care
The Connections program was developed by dementia care expert Dr. Sandra Petersen. Memory care offers the next step in senior care for those experiencing memory loss.
Specialized team members understand how vital professional care and social interaction are for people with Alzheimer's or dementia. This program helps provide meaningful activities such as music therapy and art classes. These purposeful engagements work out the brain while promoting socialization among other residents in a secure setting.
Connections offers a benefit not found in nursing homes and other assisted living facilities. This program uses data, evidence, and experience. It adds meaning and purpose to the lives of residents and their family members. Stop by to see our award-winning program.
Roswell, Georgia Assisted Living And Memory Care
There are many benefits to choosing a Georgia assisted living and memory care community like Historic Roswell Place. See these seven features and more by scheduling a tour.