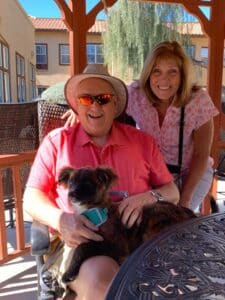 Nestled in the heart of the Sonoran Desert, Mesa, Arizona, is a hidden gem for seniors seeking a vibrant and secure place to call home. This enchanting city, with its warm climate and welcoming community, offers a unique blend of natural beauty and amenities. There's a wealth of indoor and recreational opportunities, including numerous parks and cultural attractions – two of the best-known are Riverview Park and Mesa Arts Center. This vibrant city is also close to Phoenix and Tempe, AZ, so there is also an international airport, respected medical centers, and plenty of shopping nearby.
Senior living in Mesa is all about embracing a fulfilling, vibrant lifestyle. The city's commitment to seniors' well-being, combined with its natural beauty and cultural richness, makes it an exceptional place to call home. It's the ideal location for Broadway Mesa Village, an established assisted living community in the Mesa, AZ area.
Senior Care Centers in Mesa, AZ Can Be Fun and Engaging
There are countless senior care centers throughout the Southwest. Mesa, AZ is popular because it's in a highly sought-after location with an appealing downtown area not far from two of the state's major cities. At Broadway Mesa Village, you'll find a welcoming atmosphere that prioritizes your loved one's well-being. There are picturesque landscapes and a tranquil environment, but we prioritize something just as important: Our team is passionate about creating engaging lifestyle programs and special events that the residents absolutely love. Here's how we care for their daily and long-term needs, starting with the basics, before letting you know all about the fun stuff.
Our Assisted Living and Memory Care Program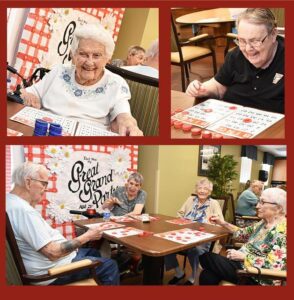 Moving to assisted living in Mesa, AZ can be a big change so it's best to see what this area's communities have to offer. Senior care services mean that residents can live with freedom and confidence, thanks to expert help from licensed nurses and specialized care services. Broadway Mesa Village offers seniors two types of care and multiple levels of assistance in each.

Assisted Living
Our assisted living residents benefit from exceptional features that enhance their health and well-being: We have an on-site licensed nurse and physical, occupational, and speech therapy services. Broadway Mesa Village's caring team members meet with all residents daily for personal check-ins and also provide behavior tracking and management. Our personal care services include:
Bathing and dressing services
Escort and ambulation
Incontinence care
Assistance with dining needs
Pet care
When comparing these services, keep in mind that assisted living communities are different from nursing homes. Our seniors are active and focused on living vibrant lives, without having to struggle with the activities of daily living.
Memory Care
At Broadway Mesa Village, our dementia care community is guided by Dr. Sandra Petersen and the Connections program. Guided by the "Connect, Move, and Learn" framework, this program for seniors living with memory loss due to Alzheimer's, Parkinson's, and other forms of dementia focuses on evidence-based therapy to preserve memory and promote healthy living.
Services include:
Connections memory care program
Activities of daily living assistance
Medication management
Brain-healthy meals
Dementia-friendly exercise
Sensory enhancing activities
Encouraging social interaction
Clean, private rooms
Secure environment
Our signature Connections program benefits the residents and their family members by offering targeted programming that meets the unique needs of seniors living with cognitive decline.
Lifestyle Programs and Special Events Geared for Seniors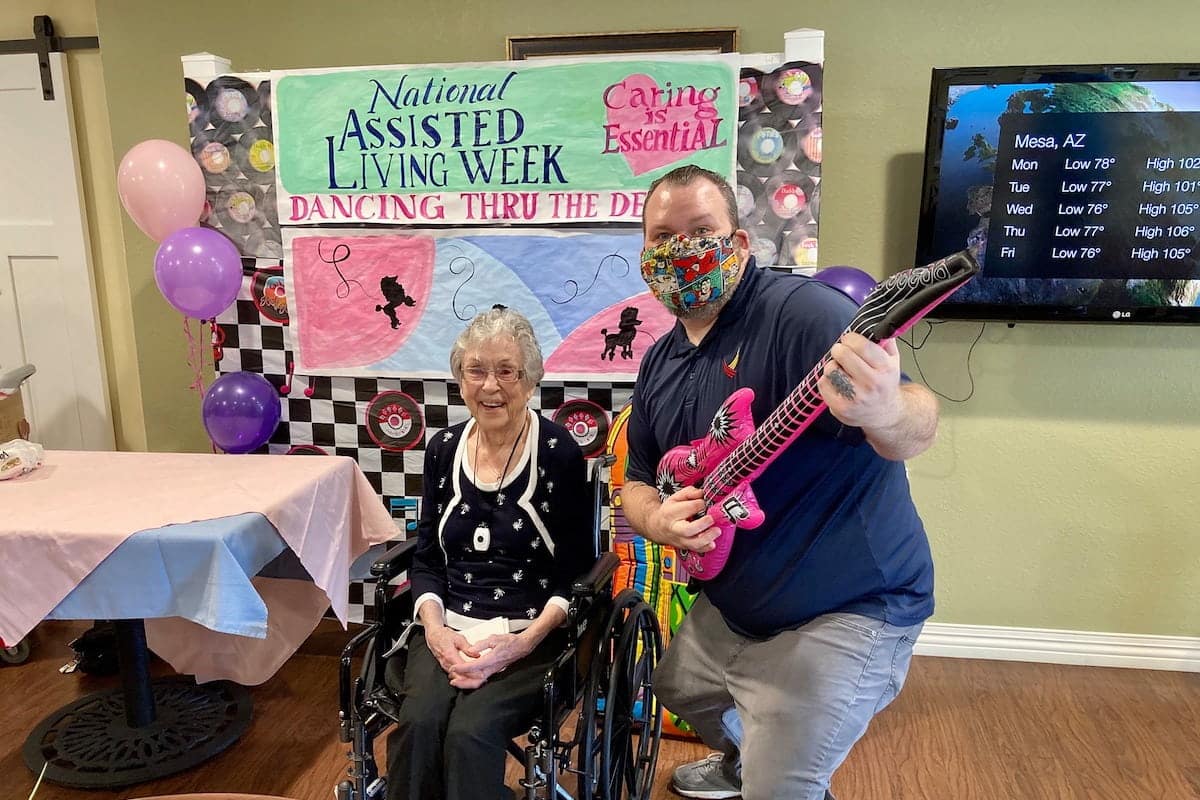 Assisted living communities can enhance their residents' social lives and cognition through enrichment programs, day trips, and events. We have monthly assisted living and memory care calendars, with events taking place in the mornings, afternoons, and early evenings. They focus on physical movement, learning engagement, and social interactions that celebrate our residents.
Broadway Mesa Village's assisted living calendar offers Bingo and other games, exercise classes, shopping trips, movies, and parties. Turning to the memory care calendar, you can find mind enrichment programs like Brainercise, SingFit, and Mind Stretchers – there are also movies and spa days.
The best way to see how much the residents enjoy the programming is to visit Broadway Mesa Village's Facebook page. Several posts show how a community member was recently honored for her 105th birthday with a parade featuring a procession of local firefighters and the Christian Motorcycle Association. Other shared videos and photos feature a barbershop quartet performance, a fun "Flip Flops and Lemon Drops" event, and holiday celebrations.
Our Art Therapy Explores Creative Expression
Broadway Mesa Village's innovative art program is available to assisted living and memory care residents. They develop new skills and awaken old ones – these form new cognitive connections and ease agitation, anxiety, and depression symptoms. The projects also incorporate aromatherapy, which has a calming effect.
What else can seniors do for fun in Mesa, Arizona?
Downtown Mesa comes alive nearly every weekend with farmer's markets, festivals, and live entertainment. Seniors are welcome to check out free concerts, traveling exhibitions, and live theater. They can also get in their walking steps and swings at places like:
Red Mountain Park
Jefferson Park
Arizona Golf Resort & Event Center
And while other parts of the country experience cold and snow, Mesa seniors get to enjoy these pastimes outdoors during the winter months. When things heat up in summer, older adults can find plenty of air-conditioned activities. The residents enjoy taking community transportation to indoor attractions like:
The Lost Dutchman Museum at Superstition Mountain
Desert Botanical Garden
Arizona Commemorative Air Force Museum
Don't worry if you feel overwhelmed by all of these choices, though. The residents have the freedom to explore the programs and participate in the ones that are to their liking. When they prefer to have some downtime, they can always retreat to their apartments and shared spaces to enjoy a bit of relaxation.
Explore Mesa, AZ and Broadway Mesa Village's Unique Assisted Living Program
At Broadway Mesa Village assisted living in the Mesa, AZ area, we celebrate and enhance all lives with kindness and integrity. We invite you to tour our property and meet our Resident Ambassador. We can't wait to show you or your family around our beautiful senior care center in Mesa, Arizona. Contact us to arrange a tour.