How We Support Our Seniors' Loved Ones
The Courtyards at Mountain View is attentive to everyone's needs, including senior living family members. We have taken extensive measures to ensure that all of those involved with our community remain secure and content throughout the rest of the COVID-19 pandemic.
How do we help the family members of our senior living residents?
We strive to make the families of our residents feel included in their experiences by offering homemade treats, providing frequent updates on our Facebook page, and continuing to allow secure, socially-distanced interactions. We care about their peace of mind as we care for their Denver seniors at our assisted living and independent living communities.
Have You Been to Our Muffin Drop-Offs?
Due to our Director Team's generosity, we recently organized several muffin drop-offs available to all of our deserving senior living family members in and around Denver. We not only treated them to delicious muffins, but also served coffee, yogurt, and fruit for complete on-the-go breakfasts. Although all of these breakfasts have been free of charge, we gratefully accepted donations to the Alzheimer's Association.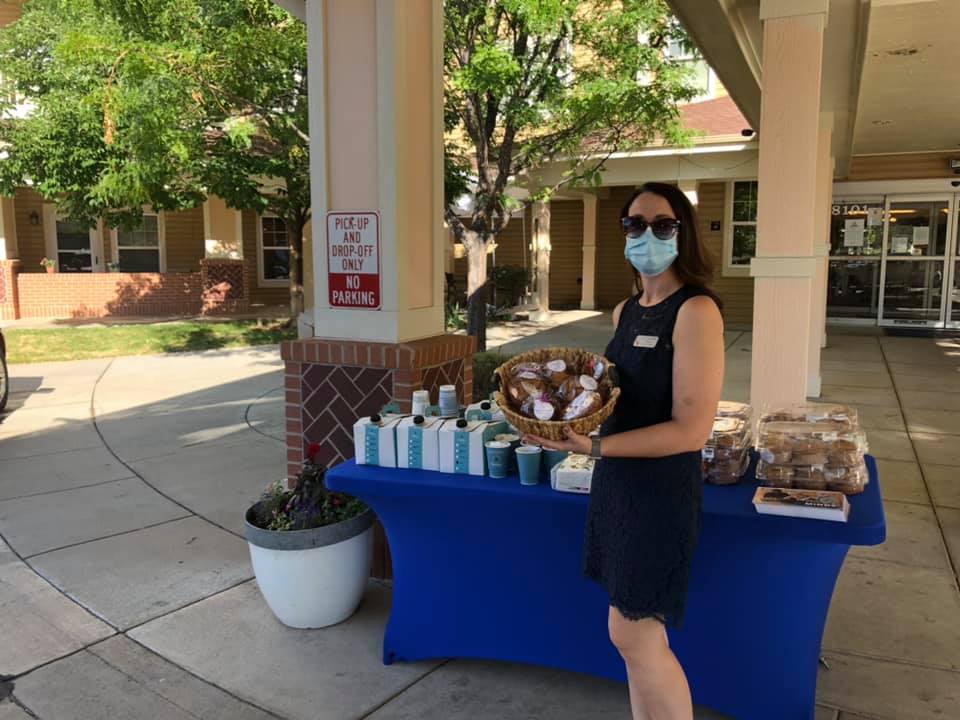 Want to Like Our Facebook Page?
With the help of social media, we regularly post updates complete with vibrant pictures and descriptions about recent events such as parties, picnics, and games. We also discuss educational activities we have organized for our residents; on Wellness Wednesdays, for example, our Life Enrichment Partner shares her tips for eating healthy.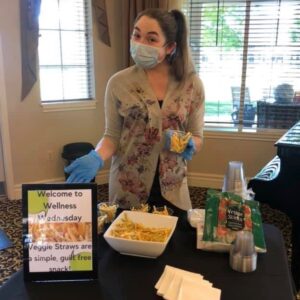 We also dedicate some of our posts to individual residents' life stories. This month, The Courtyards celebrated two teachers: Carol and Arvetta. Carol graduated from Drake University before teaching English at a junior high school; she has been married for 61 years and lives with her husband at our community. Throughout her childhood, Arvetta's family often traveled, but she eventually stayed at the same high school in South Dakota and attended Spearfish College. She taught for several years then started her own drapery company!
Current and future residents and their families are looking forward to our upcoming Connections Memory Care program. Along with informational posts about the program itself, we have also shared links to blog posts summarizing other Pegasus Memory Care Directors' various backgrounds, goals, and accomplishments. We recently interviewed Beth Smith of Broadway Mesa Village and Sam Garcia-Felix of The Seasons of Reno. Beth learned about Recreation Leadership at The University of South Dakota while Sam studied Fine Arts and Photography in addition to Public Health and Administration at The University of Nevada. We are proud to have talented and dedicated associates throughout all Pegasus communities.
How Else Are We Continuing to Interact During COVID-19?
Associates of our community have supervised window visits, as well as Zoom meetings and contact through social media websites throughout the COVID-19 pandemic. Recently, due to Colorado's reduction of state restrictions, we began offering in-person visitation for those who follow proper security protocols within our community building! The chart below contains important information about several necessary aspects of Colorado visitation.
Upon Visitor Arrival…
Visitation Area
Visitation Process
Visitation May Not Be Allowed If…

Staff members will perform temperature checks and symptom screenings

Residents should visit with their loved ones in an isolated outdoor place

The community should escort the visitor to and from their visiting area through the same path they arrived

Any participants have recent or current COVID-19 symptoms or infections

Visitors should share their name and contact information for contact tracing purposes

The number of visitors should be determined by using the

outdoor social distance calculator

The community should not be experiencing a COVID-19 outbreak

The county or the city where the facility is located is under the Stay-at-Home orders related to COVID-19

Everyone should arrive with a face mask

Furniture will be disinfected before and after each visit

Everyone should wear a face mask throughout the visit 

Statewide restrictions are implemented due to increased cases of COVID-19
If you want to visit your loved one at The Courtyards and are willing to follow state guidelines, make sure to speak with one of our associates!
Why Are We Committed to Keeping Everyone Involved?
At The Courtyards, we know that our assisted living and independent living residents' families continue to play important roles in their lives. We love to serve them enjoyable refreshments and consistently share helpful information to put their minds at ease; family members who feel welcome at our community are more likely to have positive interactions with those they are visiting, either virtually or in-person. By maintaining long-held relationships with their loved ones, our residents can feel supported by those who matter most to them.
If you would like to learn more about how we are strengthening our community inside and out, please
contact one of our friendly associates today
. We look forward to helping you stay connected throughout the time you spend with us.