Early July to mid-August classifies as the hottest days of the year in the Northern Hemisphere. According to The Old Farmer's Almanac, it's the 40 hot and muggy days between July 3 and August 11. At Pegasus Senior Living, we celebrate the dog days of summer–all year round!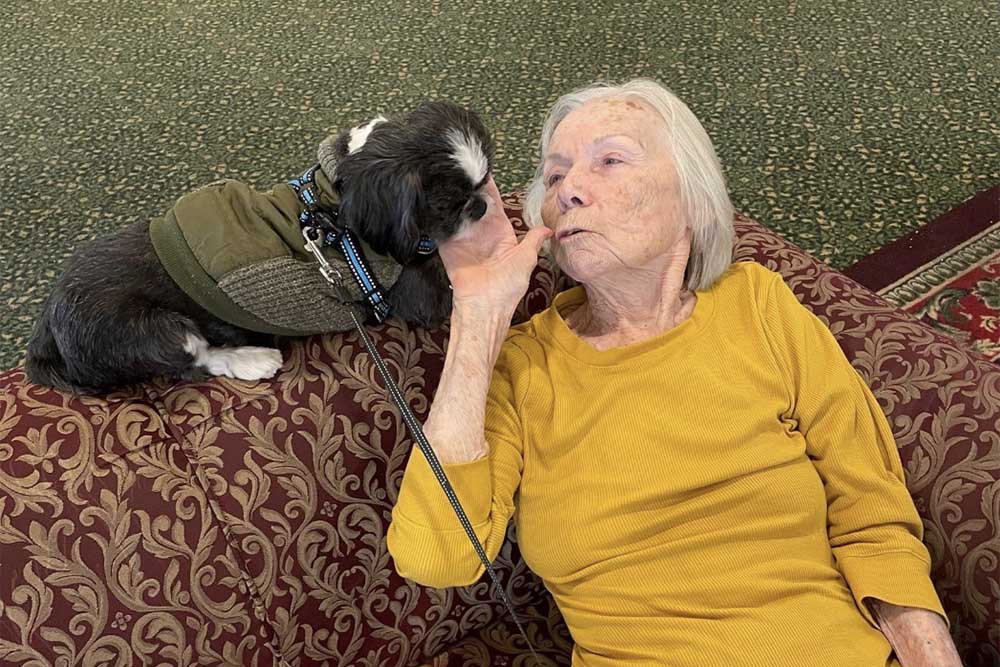 Our pet-friendly senior living communities allow pets because they are family members. Our furry friends are very much a part of our communities and provide the extra spunk that improves the lives of residents.
Let's take a trip around the country and meet the dogs who call Pegasus Senior Living home. Thank you to our furry friends that posed for pictures.
Pet-Friendly Senior Apartments
Pegasus communities offer modern living spaces for every senior lifestyle:
Independent living apartments with full kitchens
Single and multi-room assisted living spaces
These pet-friendly homes for older adults include contemporary finishes, plenty of natural light, walk-in showers, and much more. Our dedicated team members provide housekeeping, laundry, and home maintenance services.
Pets in these homes receive the benefits of plenty of love and community amenities, such as:
Paved outdoor walking paths
Private courtyards
Dog park*
Dog spa*
Pet care options
*Amenities vary by community.
Pet-Friendly Senior Living in Texas
Pegasus Senior Living is a Texas-based organization and includes four communities in the Lone Star State.
You'll encounter a plethora of pups who enjoy hanging out together in the courtyard at Town Village Crossing in Arlington, TX: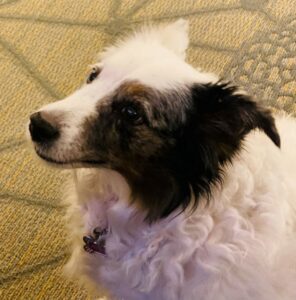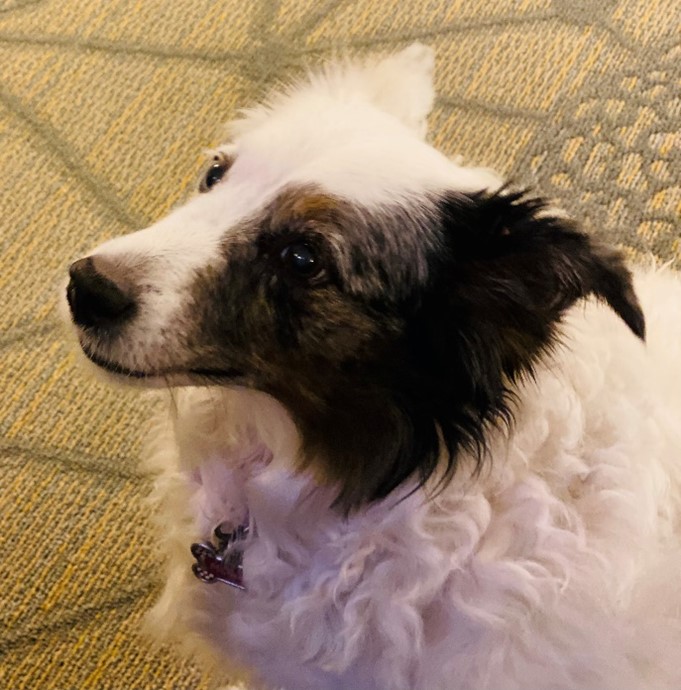 Molly was a six-week-old Australian shepherd for sale in a Walmart parking lot when Mary first met her. Fourteen years later, these two call Town Village Crossing home. Molly is brilliant, and she loves people and treats.
Tiny is the 4-year-old chihuahua who belongs to Shirley. Tiny loves to ride on her walker wherever she goes.
Jessie is a precious little 6-year-old half chihuahua half papillon who belongs to Joe and Myrle. The Life Enrichment Director watches Jessie when the couple goes out of town.
It was love at first sight when Lilly met Richard and his late wife at a church function. Lilly was the cover girl of the 2010 Arlington Animal Shelter calendar. Now 15, she still has the looks.
Sophie is also 15 years young and belongs to Judy. Sophie was a Mother's Day gift, and this blonde pekingese is a gift to our community.
Yana is a 5-year-old shih tzu who was born in New Mexico. She loves treats and people the most. She follows her mom, Darlene, to every activity in the community and even attends church.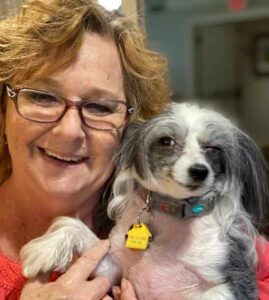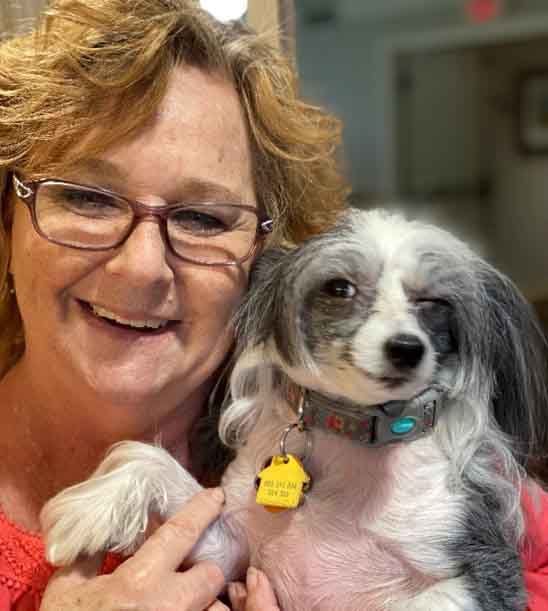 Have you ever heard of a Powderpuff Chinese crested dog? Meet Bonnie! Bonnie belongs to Donna and follows her everywhere. Donna thought Bonnie would be a hairless dog, like most Chinese cresteds, but not the Powderpuff version. We love her cute mane and fluffy tail.
Tucker is a 5-year-old pomeranian who belongs to our Life Enrichment Director, Cholly. Tucker and Jessie are best friends. Tucker was raised in senior living communities and is very smart and insightful. You'll see him hitching rides on walkers of the residents who carry treats.
Pets at Ridgmar Place in Fort Worth, TX live the good life. This independent living community includes an on-site dog park.
Wyatt is a 2 1/2 year old papillon who loves to run around with his pals, Yoda, Buddy, and Abby. His mom Debi encourages you to come by and pet him.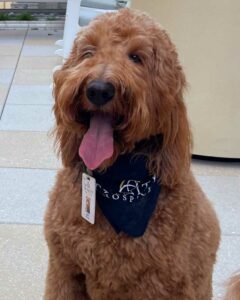 "He makes a difference in my life because he is a sounding board for my problems and joys," says Debi. "Even though he cannot talk back, he listens to everything I tell him. Since I am in a wheelchair, it is hard to walk him, but with the sidewalks all around the facility, it is easy to find a path."
Clark, the goldendoodle, is our Trinity Hospice Therapy Dog who visits The Farrington at Tanglewood in Houston. Our residents instantly light up whenever Clark is in the building. Clark is a sweet, nurturing dog that loves to do all kinds of tricks. Whatever room he enters, all eyes are on him. Clark days are the best days.
Dog-Friendly Assisted Living in California
Pegasus Senior Living operates eight locations in California, and we have a big pack of Golden State dogs everyone loves.
One who toes the line between team member and community member is Onyx, the 6-month-old French bulldog. He comes to work with his mom, Erika, the Business Office Manager at Creston Village in Paso Robles, CA.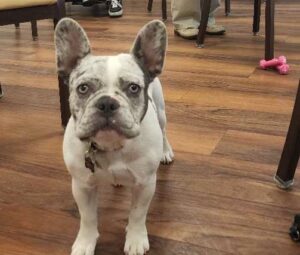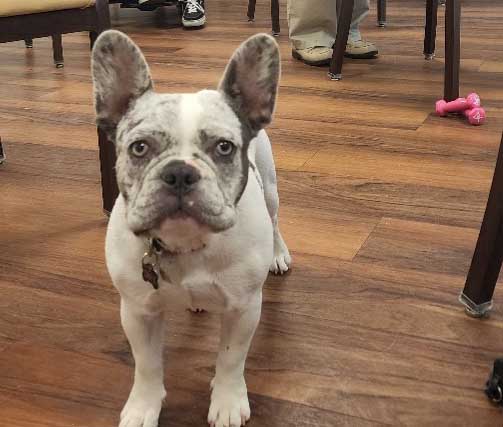 Onyx sparks a lot of joy and excitement but also carries himself calmly and peacefully. This pup loves naps, popcorn, and belly scratches. You can count on Onyx to give a lot of love and licks when he is in the building.
Manya and her dog Cara share a special bond at Greenhaven Place in Sacramento, CA. Cara was a stray who would come and hang out on Manya's front door when she lived independently. They became best friends and now enjoy walks around our community and cheering up everyone in the building.
Buddy's one of those dogs where you're not quite sure what kind he is, but he's a best friend nonetheless. Shirley found Buddy on the side of the freeway. She pulled over and carefully approached him; the two have been inseparable ever since.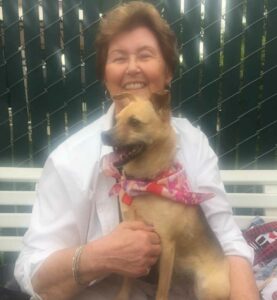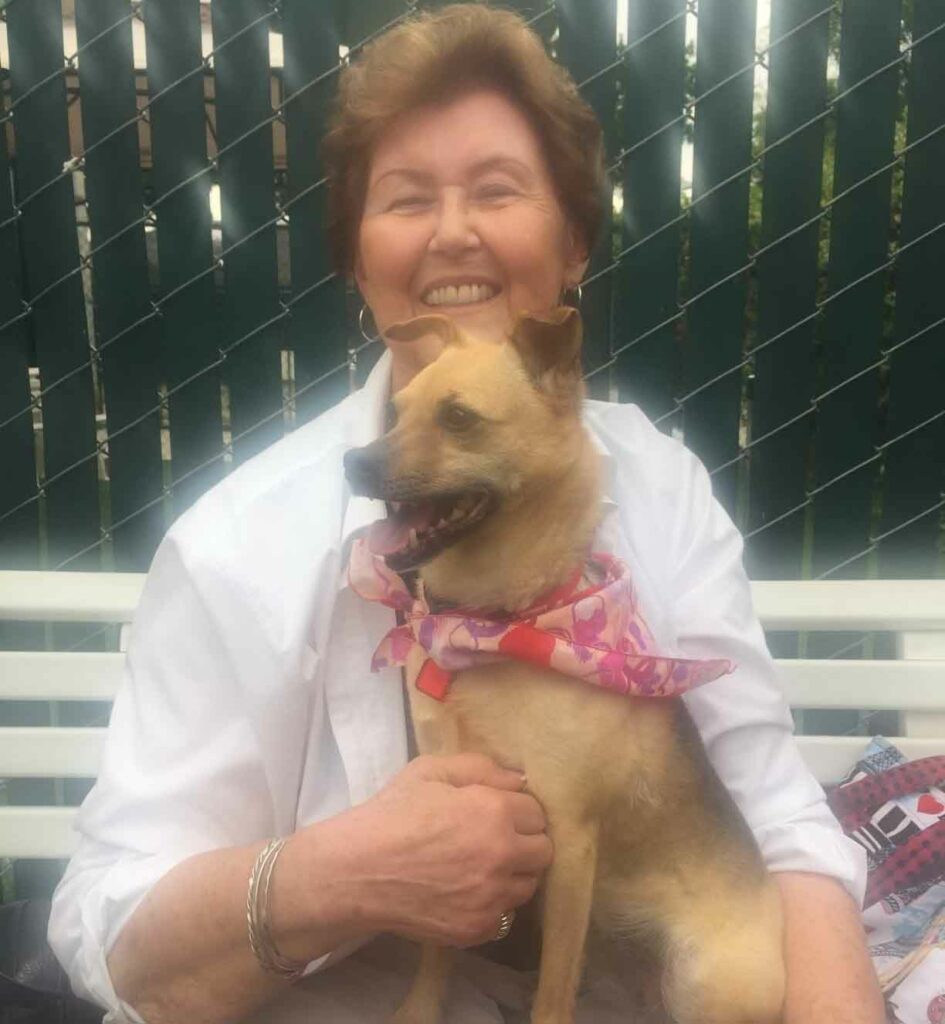 Karla lost her beloved shih tzu a few years ago. A friend offered to take her to lunch to cheer her up but actually took her to adopt a new dog at the humane society. A surprise encounter with Steffi, a chihuahua terrier mix, was love at first sight. Having Steffi in our community radiates so much joy. Everyone loves to stop Steffi in the hallway to offer pets and treats.
Darlene adopted Sammy when he was just six weeks old. He is now eleven, and the inseparable pair call The Havens at Antelope Valley in Lancaster, CA home. Sammy enjoys short walks in the evening and is very kind and friendly with the residents.
At Whispering Winds of Apple Valley in Apple Valley, CA we really love it when Sunshine Sally comes to visit. She is a very friendly therapy dog. She's been cheering up residents for eight years. Sally enjoys getting ear and belly scratches in addition to delicious treats.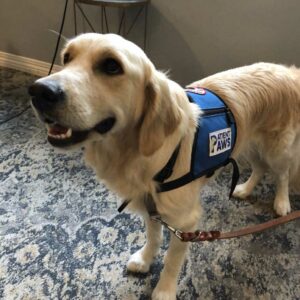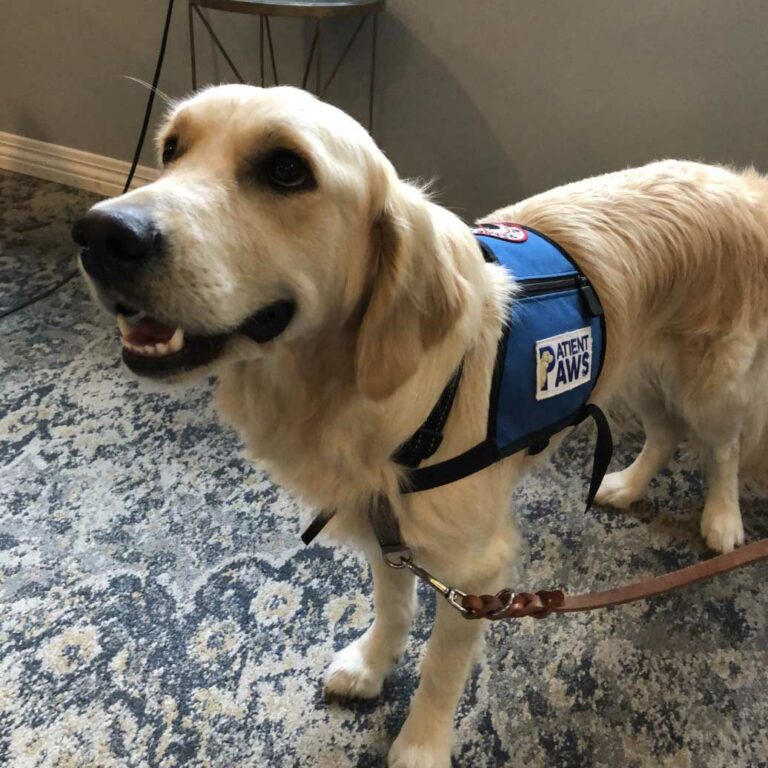 Sterling Court at Roseville in Roseville, CA is home to Tyson and Little Bit. Tyson is quiet and shy but loves hanging out in the lobby. His roommate, Little Bit, is a ten-year-old who is very friendly and playful. Together they make our assisted living and memory care community light up with love.
An adorable trio in Fairfield, CA runs things at The Village at Rancho Solano. Rocky and Tanya follow around Anneliese, bringing smiles to all.
"The residents enjoy seeing my dogs walk around the building," says Anneliese. "They love to hear little updates about their health and lives. Tanya was given to me while I was volunteering in memory care, and Rocky was a runaway who went right to me. It's been a journey, but I love them. I couldn't live here without them, and I wouldn't want to. They are my family."
Is there pet-friendly assisted living near me?
With nearly 40 communities across the country, there's a good chance that you and your furry friend can find senior housing near you. Let's meet some more pups!
Arizona
Verity, the mini schnauzer, is the community mascot at Tucson Place at Ventana Canyon in Tucson, AZ. Her mama Kay says she has a lot of costumes and nicknames, including:
Nurse Verity
Our Social Butterfly
The Sneaky Leprechaun
Our Rodeo Star
Head of Security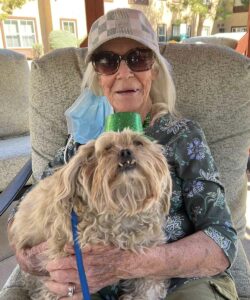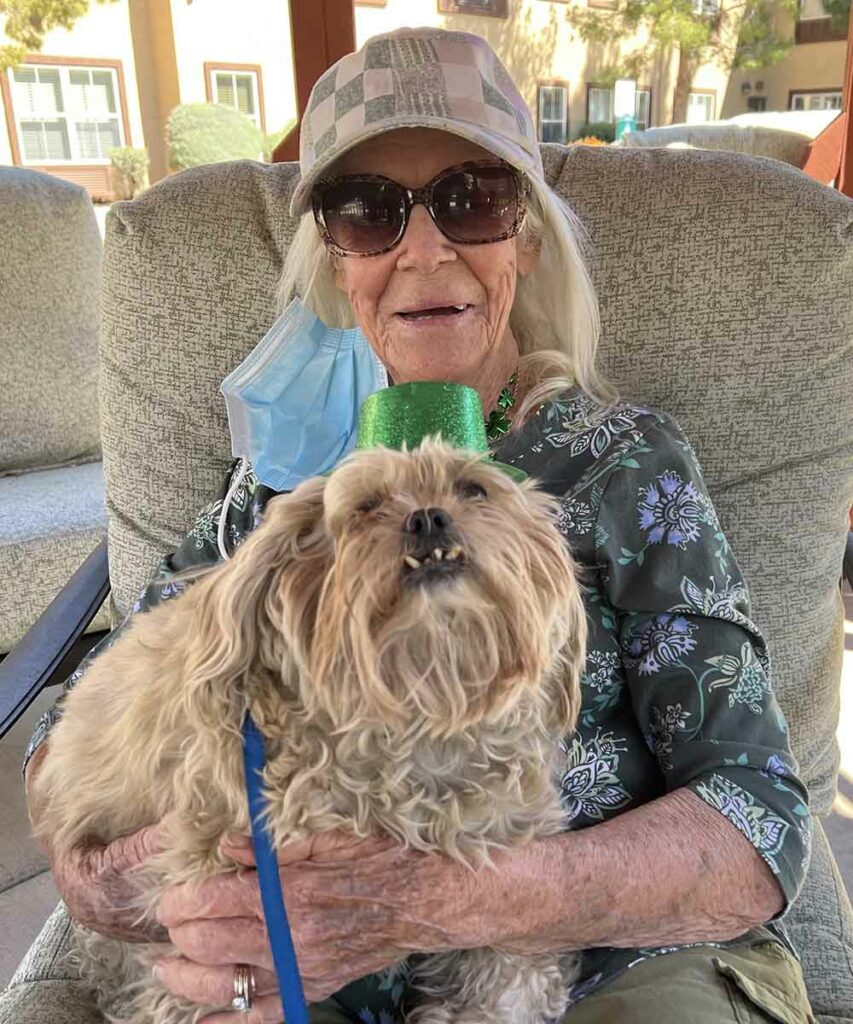 Gypsy is a shih tzu mix and resident of Broadway Mesa Village in Mesa, AZ. Her sweet demeanor, big brown eyes, and wonky teeth charm and delight everyone who looks at her. It's hard to believe that five years ago, she was found abandoned alongside a remote desert road. She is now in good health and in good spirits. Miss Gypsy will always be a keeper and treasured member of the community.
Colorado
Ginger is 14 years young and loves napping in the chair of her owner Pat. Everyone loves petting Ginger, who has the softest fur at The Courtyards at Mountain View in Denver, CO.
Georgia
Magnolia Place of Roswell | Roswell, GA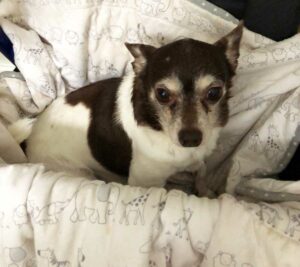 Little Girl came from a very nice elderly gentleman. She is a registered service dog who alerts when her mommy's sugar level goes up. Little Girl is a 9-year-old chihuahua. She likes to greet everyone as soon as they enter her room.
Jules and Maui are the wonderful dogs that visit with Patient Paws. This pet therapy service trains goldens to be service dogs. Everyone here has fallen in love with the snuggly Jules and her new partner in training, Maui.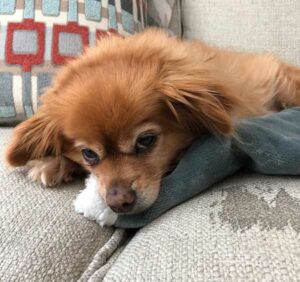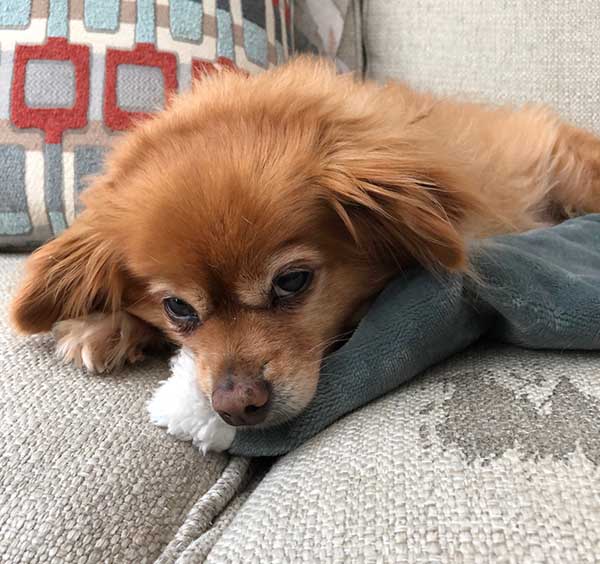 Bella considers all of Magnolia Place to be her home. She's a rescued long-haired chihuahua who loves to greet everyone who enters the community. Sometimes when her owner Marion isn't looking, she takes herself for walks. Bella is very smart.
Historic Roswell Place | Roswell, GA
Scout visits our assisted living and memory care community every Wednesday. She's a big teddy bear and enjoys dressing up for holiday events. We just celebrated her fifth birthday, and she is a mother to nearly 20 English crème golden retriever puppies. Her daughter Charlotte also joins us and loves to help play trivia. They are a delight to have in the community.
Kansas
Maggie is a red golden retriever, and Ella is a blonde golden retriever. They visit and brighten the lives of residents at Glenwood Village of Overland Park in Overland Park, KS. They are the official best friends of the residents living in memory care.
Mississippi
Sweet Sunny is the official pup of Ridgeland Place in Ridgeland, MS. She makes a huge difference in the lives of staff and residents. She is a happy labrador who makes the residents feel comforted. People get so excited to see a smiley dog when they walk into our community.
New York
The end of the work week at Evergreen Place in Brockport, NY is known as "Furry Friday." That's when our Sales Director brings Thea the shih tzu to work.
Washington
Carl and Rae share their senior apartment with Benny at The Gardens at Marysville in Marysville, WA. Benny is an 11-year-old cavalier king charles spaniel who loves the attention he gets from the residents. He enjoys living on the third floor of our assisted living community because it gives him more opportunities to receive pets on his way down to the garden.
Let Your Dog Have A Day at A Pegasus Senior Living Community
Find a pet-friendly independent living, assisted living, personal care, or memory care community near you. We can't wait to welcome you homep