National Best Friends Day falls on June 8, 2022. It's a terrific day to let your best pal know how much they mean to you. Celebrate the day, grab lunch, and do what you two do best: have fun!
Having a best friend means being a best friend.
Let's meet some of the Pegasus Senior Living family who will be celebrating National Best Friends Day in a big way this year. Some of the friendships in our senior living communities have lasted over 50 years, and some have only just begun. No matter what, they're best friends forever!
Nee and Michelle, Greenhaven Place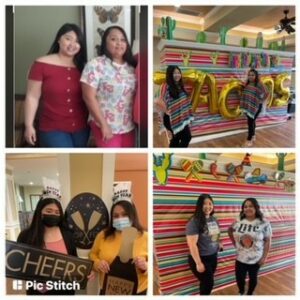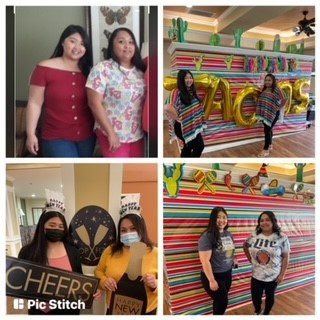 The team members at Pegasus Senior Living communities form close bonds while providing superior senior care and service. Life Enrichment Director Nee and Dining Services Director Michelle began their bonding experience four years ago at a different senior living facility as med techs.
"When we both left that job, I thought we wouldn't have much contact with each other," says Nee. "But little did we know, we ended up working together at Greenhaven Place. We started as med techs, and we have a passionate love for our residents."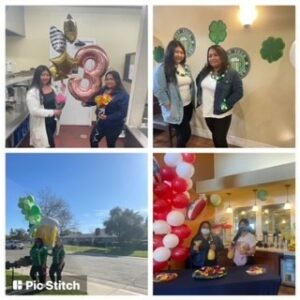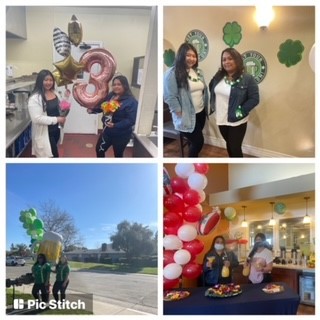 Nee and Michelle have created some of the best parties in Sacramento. This friendship inspires events that residents look forward to attending, from New Year's parties to Christmas and everything in between.
"All of our event planning is always so fun and exciting because we know this will make our residents happy and excited about what event will come next," Nee says. "We aren't just coworkers. We became best friends."
Magnolia Place of Roswell
Mary Kate and Sandy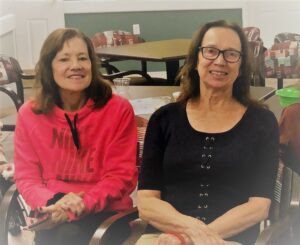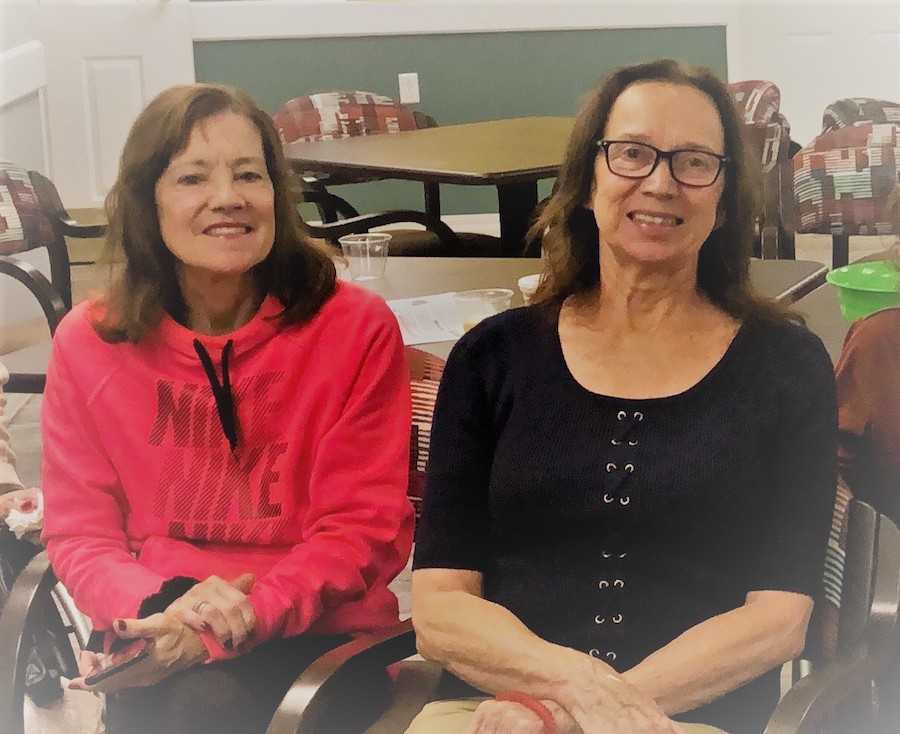 Mary Kate and Sandy are always kidding about how they are twins. They were born on the same day in the same year, so they have the same taste in music.
They both say they are girlie girls and prefer the frilly, sparkly stuff. Mary Kate and Sandy enjoy coming to glamour day and jewelry making at Magnolia Place of Roswell. They always call each other to remind each other to be there.
Mary Kate and Sandy eat together, walk the dog together, and genuinely appreciate each other's company.
Bunny and Pat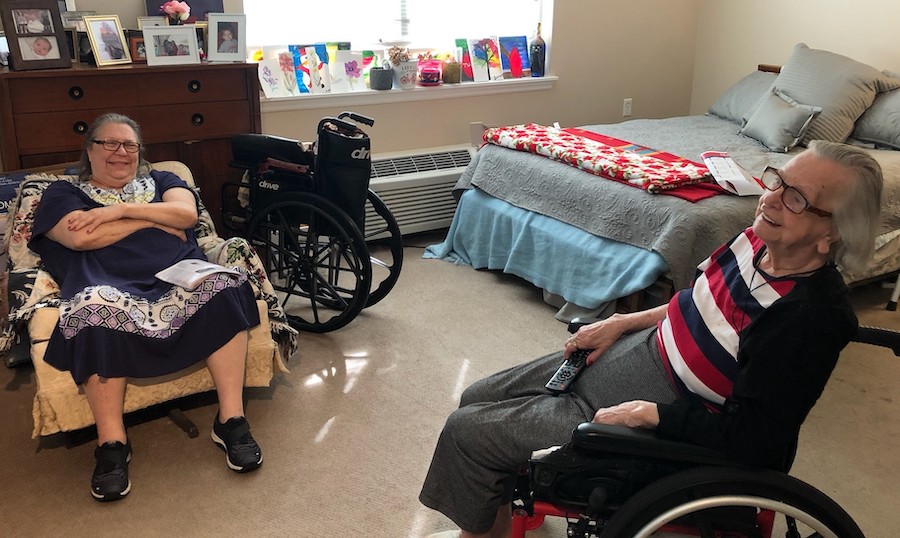 Whenever you see Bunny, you'll also see Pat. Bunny and Pat both like word games, but their friendship goes deeper than that. As they stop at the mailboxes, Pat pushes while Bunny carries everything. It's the perfect match.
Greta & Ellen, Creston Village
Greta and Ellen met through a mutual friend a few decades ago and hit it off right away.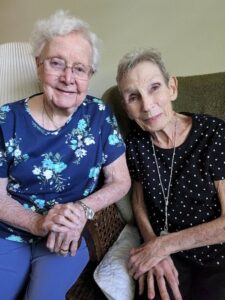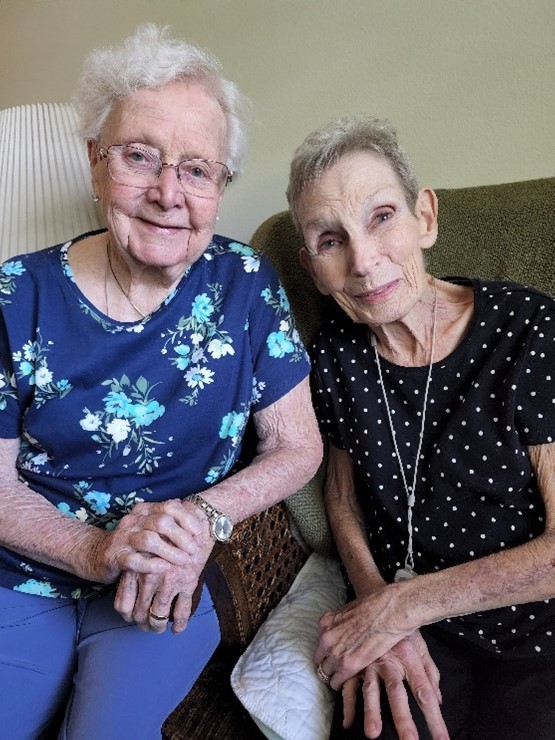 They would frequently go for lunch and an afternoon matinee. Eventually, their husbands met and became friends too. The foursome enjoyed having all sorts of good times before their husbands passed.
When Ellen considered moving to assisted living, she remembered Greta had moved to Creston Village. The two friends have reunited and now enjoy dining with each other again. They continued their friendship with high regard for each other and now live just a few steps from each other.
Betty and Kaye, The Gardens at Marysville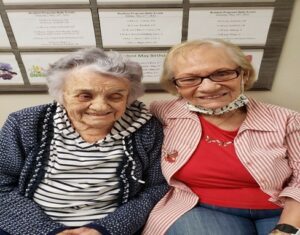 Betty and Kaye have been friends for nearly 40 years, and we love having them at The Gardens at Marysville. They both attended the same church and spent time traveling to nursing homes singing for the residents. After all these years, they are happy to be friends and live in the same community.
Things Betty and Kaye love:
Spending time together
Praying
Singing
Attending happy hour and live entertainment
Dorothy and Dorothy, Broadway Mesa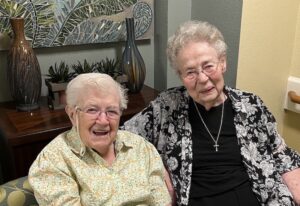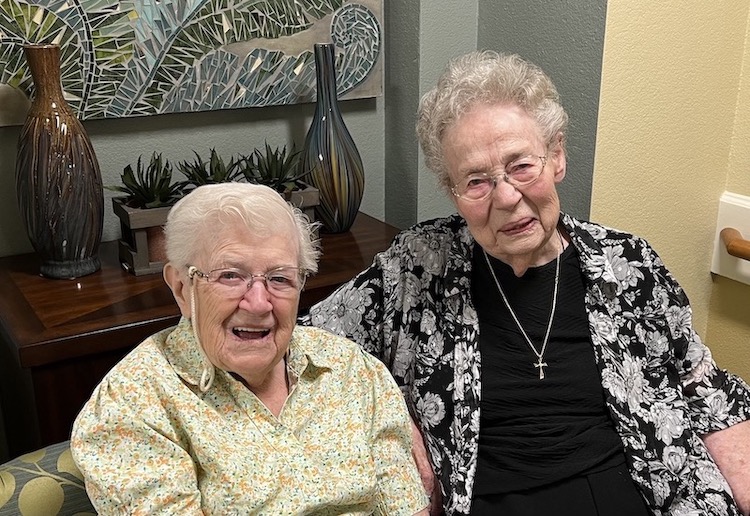 Dorothy and Dorothy met shortly after moving into Broadway Mesa Village about four years ago. They formed their bond over puzzles. They like all the same games and look after each other when the other is ill.
One Dorothy is originally from New York, and the other is from Nebraska. When we talk to them in a group, we distinguish them by calling the New Yorker 'Dawrawthy' and the one from Nebraska 'Dorothy.'
They are both very sharp and get very competitive during the weekly word game competition. Dorothy's son even gave Dawrawthy a flower bouquet for Mother's Day.
JoAnne, Celeste, and Elaine, The Rivers at Puyallup
JoAnne and Celeste met in the early 90s while working together at Target. They met Elaine in 2006 when they all started attending the Puyallup Senior Center. The triple threat enjoyed getting rides to the casino, exercise classes, bingo, and trips out to lunch.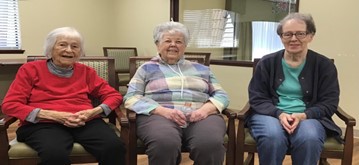 Often they would simply sit together and hang out.
Joanne decided to move to The Rivers at Puyallup a few years ago. She brought Elaine along for the tour, and they both agreed to move in. Celeste came around to the idea of assisted living a year later, and now the gang's back together again.
These three ladies are highly active here in the community and continue to have strong friendships. They love to sit and visit after exercises each morning.
Gig Harbor Court
Susan and Marylu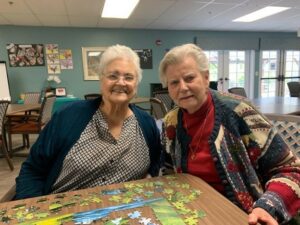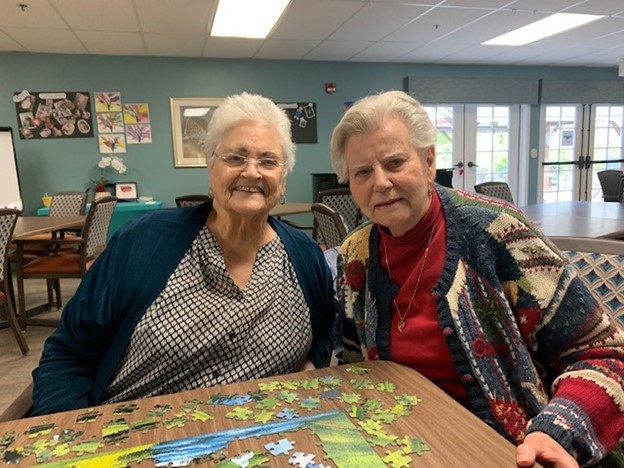 Susan and Marylu can't remember how they first met, but they became fast friends when Susan moved to Gig Harbor Court a little over a year ago. The two bonded over the puzzles and haven't separated. They truly love one another.
Both are outgoing and have a wonderful sense of humor. Marylu and Susan are like a comedy duo, cracking up their fellow residents with witty banter.
They love to play bingo, and their favorite card game is Trash. Marylu and Susan complete every crossword and join in on almost every event in the activity calendar.
Cindy and Shirley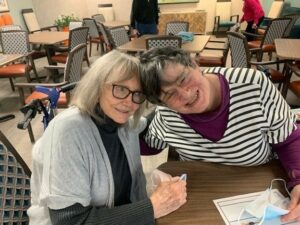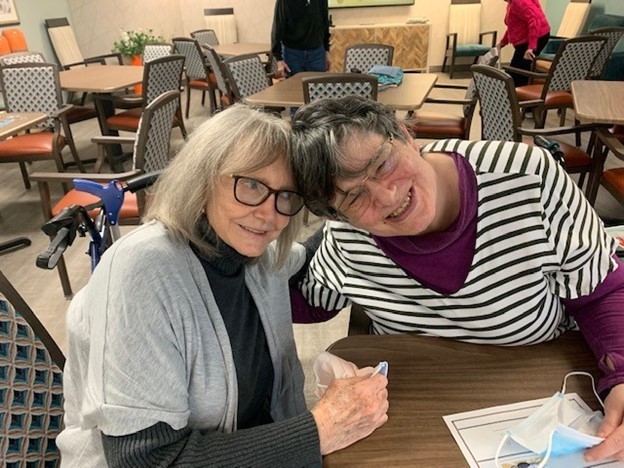 Shirley admits she was a bit of a recluse when she moved to Gig Harbor Court two years ago. "It is hard to venture out when you are new and don't really know anyone," she says.
Cindy began to invite Shirley to meals, activities, and events from day one. Cindy would go to Shirley's apartment to knock on the door and persuade her to have fun.
Shirley consented and began to feel comfortable attending the various events with her fellow neighbors, and the pair are regulars at all the activity events. They are now inseparable and consider themselves to be family. You'll find these two:
Watching movies
Playing bingo
Answering trivia questions
Putting together puzzles
Jane and Alice, Historic Roswell Place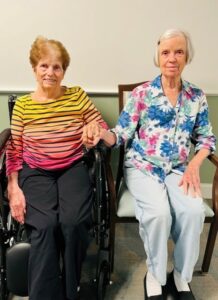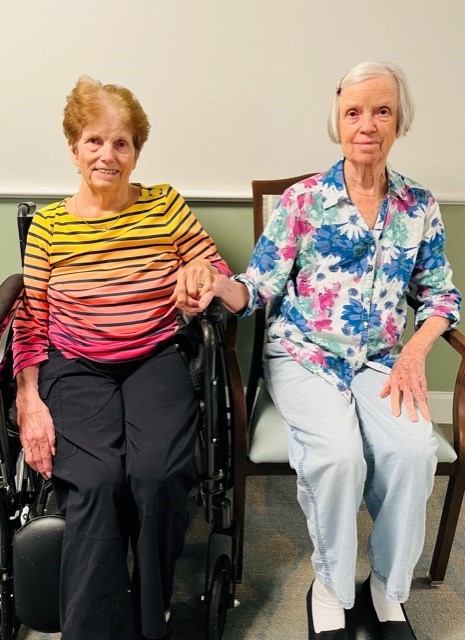 Jane and Alice are the "Laverne & Shirley" of Historic Roswell Place. These two met in 1968 in one of those neighborhoods where everybody knew each other. Alice had just had a baby, and Jane was expecting a couple of months later. Jane says the first baby she ever held was Alice's, and it made her a "nervous wreck," she says.
These ladies have been friends for over 50 years. They still belonged to a Birthday Club that meets for lunch regularly. They also took a lot of weekend trips together, and they enjoyed their time together as neighbors and best friends.
Sister Theresa and Bertha, The Oaks at Inglewood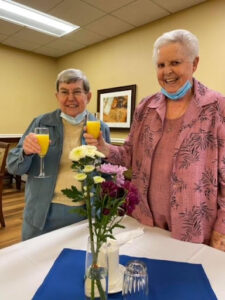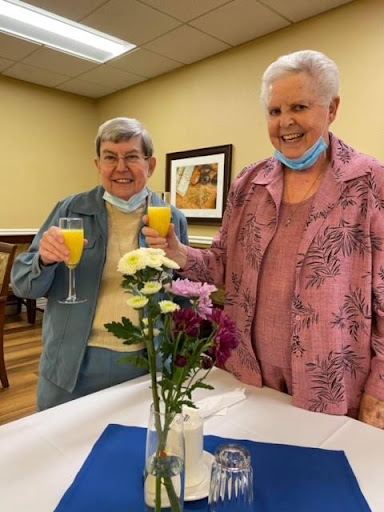 There is nothing more valuable in this world than a true friendship. We sure do admire the friendship of Sister Theresa and Bertha. They met while teaching at School for Adults over 30 years ago. Bertha remembered the first day she met Sister Theresa.
"Theresa was new to the school," says Bertha. "She was quiet and had a very serious demeanor."
Bertha told her to lighten up, smile, and not be too serious, and the rest is history.
Before moving to The Oaks, they lived together for two years. Bertha did all the cooking while Sister Theresa took care of the gardening. Sister Theresa suffered a heart attack, and they decided to move to assisted living at The Oaks at Inglewood.
They currently live in two separate apartments, two doors down from each other, but are still inseparable. Sister Theresa handles the laundry, and they take turns driving to church. We're happy to have both of them as a part of The Oaks at Inglewood Resident Council Team.
Mary and Betty, The Chateau at Gardnerville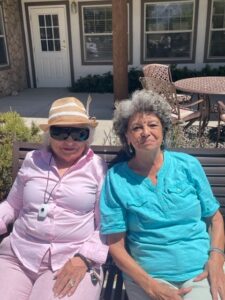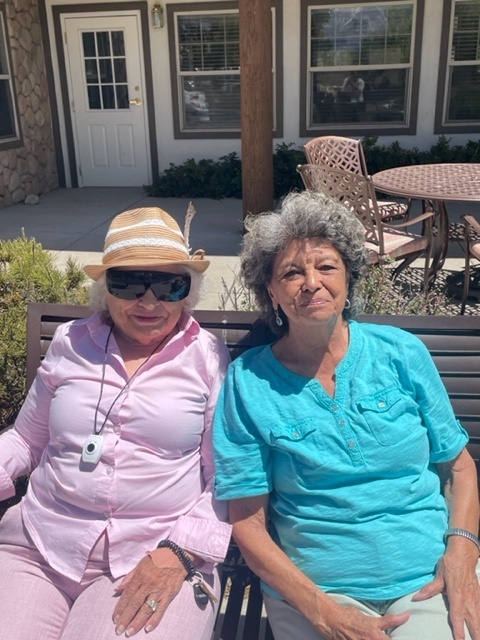 These two beautiful ladies are always laughing and smiling together. Mary and Betty met when they moved in across the hall from each other at The Chateau at Gardnerville a little over two years ago. Betty is a Gardnerville local, while Mary was new in town. They bonded over Betty playing tour guide.
They both started learning more about each other and found that they both have had fascinating lives and enjoy the outdoors! Mary and Betty enjoy taking multiple walks all around our community daily.
Happy Best Friends Day!
Pegasus Senior Living would like to wish everyone a Happy Best Friends Day on June 8, 2022. Invite your best friend to join you on a tour of an independent living, assisted living, or memory care community near you. You'll be surprised how many friends are waiting for you here.